Sunday's Gospel Reading
King Herod heard of it, for Jesus' name had become known. Some were saying, "John the baptizer has been raised from the dead; and for this reason these powers are at work in him." But others said, "It is Elijah." And others said, "It is a prophet, like one of the prophets of old." But when Herod heard of it, he said, "John, whom I beheaded, has been raised." For Herod himself had sent men who arrested John, bound him, and put him in prison on account of Herodias, his brother Philip's wife, because Herod had married her. For John had been telling Herod, "It is not lawful for you to have your brother's wife." And Herodias had a grudge against him, and wanted to kill him. But she could not, for Herod feared John, knowing that he was a righteous and holy man, and he protected him. When he heard him, he was greatly perplexed; and yet he liked to listen to him. But an opportunity came when Herod on his birthday gave a banquet for his courtiers and officers and for the leaders of Galilee. When Herodias' daughter came in and danced, she pleased Herod and his guests; and the king said to the girl, "Ask me for whatever you wish, and I will give it." And he solemnly swore to her, "Whatever you ask me, I will give you, even half of my kingdom." She went out and said to her mother, "What should I ask for?" She replied, "The head of John the baptizer." Immediately she rushed back to the king and requested, "I want you to give me at once the head of John the Baptist on a platter." The king was deeply grieved; yet out of regard for his oaths and for the guests, he did not want to refuse her. Immediately the king sent a soldier of the guard with orders to bring John's head. He went and beheaded him in the prison, brought his head on a platter, and gave it to the girl. Then the girl gave it to her mother. When his disciples heard about it, they came and took his body, and laid it in a tomb.
-Mark 6:14-29

Before I formed you in the womb I knew you, and before you were born I consecrated you; I appointed you a prophet to the nations. -Jeremiah 1:5

John the Baptist preaches the truth no matter the cost. Like the prophets before him he chose Love over safety or comfort.

Christians, marked with the seal of the Holy Spirit (Ephesians 1:13), are challenged to a life of continually awakening and conscience and consciousness, ever strengthening that taut plumb line linking deeper contemplation and increasingly radical action.
The cost of ignoring the call may be heavier than the risks of responding, as Adrienne Rich suggests (Meditation One). No matter what you face in the difficulty of your mission, remember the heart of the call is always Love (Meditation Two). And you and I never lose the need for continual purification,repentance, conversion, as we journey and mature along the unitive mystical path (Meditation Three).
Enjoy this short retreat as you prepare for Sunday.
- Suzanne
Meditation One (Introit)

Deciding To Respond

Prospective Immigrants Please Note


Either you will go through this door

Or you will not go through.

If you go through

There is always the risk

Of remembering your name.

Things look at you doubly

And you must look back

And let them happen.

If you do not go through

It is possible to live worthily,


To maintain your attitudes,

To hold your position,

To die bravely.

But much will blind you,

Much will evade you,

At what cost who knows?

The door itself makes no promises.

It is only a door.

-Adrienne Rich 1929-2012

The Feast of Herod, Spinello, 1385
Miscellany

(accompanies Meditation Three)

Take away, you who take away the sin of the world,
these which are sins of the world,
which I carry from living in the world.
Take away, you who take away the sin of the world,
by the merits of him who with that same word of witness
pointed you out to the world,
take away the sins that I have contracted in the world;
take from me whatever is not from you,
for I hate whatever is from me; and still I hope in you.
And you, Saint John,
who showed to the world
him who takes away the sin of the world,
by the grace given to you
gain for me that mercy to take away my sins.
Anselm c.1033-1109
Prayer to John the Baptist (excerpt)
Hymn at Vespers (feast of the beheading of John the Baptist)

O more than blessed, virtue high attaining,

pure as the snowdrift, innocent of evil,

child of the desert, mighties of martyrs,

greatest of prophets;

oh, may the power of your intercession,

all stony hardness from our hearts expelling,

smooth the rough places and the crooked straighten

here in the desert.

Thus may our gracious Maker and Redeemer,

seeking a station for his hallowed footsteps,

find, when he comes here, temples unpolluted,

fit to receive him.

from A Monastic Breviary

Order of the Holy Cross
An Imagined Conversation
Between
Herod and Herodias
at Their Villa
During Their Retirement
in Lyon*
"Darling, remember all those years ago? What was it about the Baptist and that Jesus person that fascinated you so?" asks the comely Madame Herod in the courtyard of their villa in Lyon.

"I don't know," replies the old man, puffing on his pipe. "Something interior, I think. Passion. Passion, that's it. Those men loved God the way I love you, my Dear. But imagine, loving without the comforts of your scented breasts, your thighs like jewels, your belly a heap of wheat encircled with lilies, the ivory tower of your neck, and I, your king held captive in your tresses. What I admire about those men was that their love was stronger than death. I recognize the same thing in myself."

"You've always been in love with yourself," Madame Herod observes. "I hear there are followers of Jesus in Marseilles. Friends of his, apparently. Two sisters and a brother. They say one sister tamed a basilisk and the other lives in a cave.** I'd love a few weeks on the Mediterranean, wouldn't you, Dear?"

"The warm sea air would do me good," says Monsieur Herod. "But this infernal Gaulish weather exacerbates my rheumatism. I can't travel right now. Do you know what's playing at the Lyon Coliseum this afternoon?"

And so their conversation drifts toward more immediate and sensate concerns.
-Suzanne Guthrie

*Herod was exiled to the remote outpost of Lyon in Gaul (now France)
** In legend, Lazarus, Mary, and Martha fled to Marseilles after the crucifixion. Martha tamed a basilisk plaguing a nearby village. Mary became an ascetic, living in a cave at St. Baum, where angels lifted her into heaven seven times a day to pray the office with the heavenly host.
Salome Offers Head of John the Baptist to her Mother, Circa 1323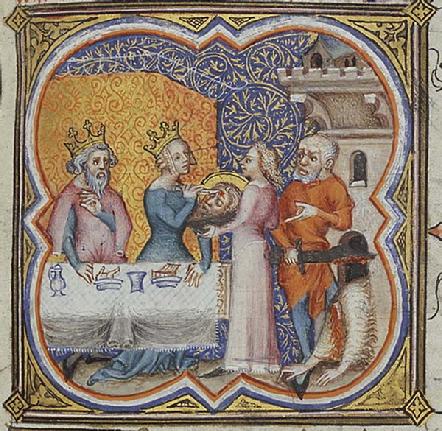 Feast of Herod, Unknown Illustrator of Petrus Comestor's Bible Historiale, 1372
Bee Skep, Tancuinum Sanitatis, detail

Meditation Two (Insight)

What You Find At The Heart Of It

The more a soul loves, the more perfect it is in its love; hence it follows that the soul which is already perfect is, if we may speak in this manner, all love.

All its actions are love, all its energies and strength are occupied in love.

It gives up all it has, like the wise merchant, for this treasure of love which it finds hidden in God.

The Beloved cares for nothing else but love.

The soul, therefore, anxious to please him perfectly, occupies itself unceasingly in pure love of God.

As the bee draws honey from all plants and makes use of them only for that end, so the soul most easily draws the sweetness of love from all that happens to it.

It makes all things subservient to the end of loving God, whether they are sweet or bitter.

In all its occupations its joy is the love of God.

-John of the Cross 1542-1591

The Spiritual Canticle
Meditation Three (Integration)

Refreshing The Soul Along The Journey

John was sent ahead like a voice before a word, a lamp before the sun, a herald before a judge, a servant before his master, the best man before the bridegroom. …

… Let us, too therefore, prepare a way for the Lord who is to come into our hearts.

Let us remove the barriers of sin by confession and repentance; let us straighten the paths of our life which for too long have been undirected and devious; let us pave the way of true faith with good works.

Let us rid ourselves of all arrogance and lift high our fainting hearts.

Then, when all is in order, smoothed, and brought into harmony, we shall see the salvation of God as he is, for "his home is in peace and his dwelling in
Zion
."

-Rabanus Maurus, Archbishop of
Mainz
c.784-856

The Last Word

Gird Up Thy Loins

Thou therefore gird up thy loins, and arise, and speak unto them all that I command thee: be not dismayed at their faces.

-Chapter at First Vespers, Jeremiah
1:17
the feastday of the beheading of John the Baptist, (August 29)
I feel an uncomfortable affinity to Herod in this story. Not over the creepy lust for his step-daughter, obviously, but in his being torn between truth and self-interest. What draws Herod Antipas, the power-hungry ruler, Tetrarch of Galilee, son of Herod the Great, to John the Baptist's preaching of repentance, forgiveness of sins, turning in conversion toward God? Something inside of him must resonate to John's message, and later, incites his eagerness to meet Jesus.

Drawn on the one hand to the messages of Jesus and John the Baptist, on the other he's also enthralled by the ambitions of his wife, Herodias. Herodias means to help Herod Antipas realize his full potential. Her first husband, Herod's brother Herod Philip, (with whom she had a daughter Salome), did not share her love of power. She met Herod Antipas, in Rome, about 28 A.D. and they fell passionately in love. Both obtained divorces and married each other, which created public scandal and family resentments.

Herod's birthday dinner party reveals the cynicism of Herodias. Playing upon her husband's lust for her daughter, she uses Salome to excite Herod into a promise he will regret. But he admires his wife's cunning. It mirrors his own cunning.

Jesus, attuned to this very craftiness, calls Herod "that fox" when Herod sends Pharisees to warn Jesus to leave Galilee. Herod does not want to kill Jesus, but clearly wants him out of the neighborhood. Jesus sees through the murderous threat. And the close observer gets the sense that Herod nurtures a fascination with the one Pilate will ambiguously name "King of the Jews."
Herod will finally meet Jesus. In the night hours of the Passion, Pilate sends the prisoner to Herod who happens to be in Jerusalem at the time. Because Jesus is a resident of Galilee, perhaps Herod can save Jesus, thinks Pilate. One gets the sense that Pilate is reluctant to have Jesus killed. "What is truth?*" he asks philosophically, washing his hands of guilt. Once Herod sends the prisoner back, however, Pilate acquiesces, "wishing to satisfy the crowd," not unlike Herod in front of his guests at the banquet when Salome danced for the head of John the Baptist.

The long anticipated meeting between Herod and Jesus ends in fury and frustration. Jesus simply refuses to speak to him.

When Herod saw Jesus, he was very glad, for he had long desired to see him, because he had heard about him, and he was hoping to see some sign done by him. So he questioned him at some length; but he made no answer. The chief priests and the scribes stood by, vehemently accusing him. And Herod with his soldiers treated him with contempt and mocked him; then, arraying him in gorgeous apparel, he sent him back to Pilate. And Herod and Pilate became friends with each other that very day, for before this they had been at enmity with each other. Luke 23:8-12
Pilate appreciates Herod's clever humor in dressing Jesus in an elegant robe. The execution takes place.

The sign "King of the Jews" Pilate has placed upon the cross adds another ironic twist to Herod's story. Herod himself wishes to be King of the Jews.
Herodias' ambition for her husband in that direction ultimately undoes them both. When Caligula grants her brother Agrippa (I) the title "king" she sends her husband to Rome to petition for the same title. Agrippa in the meantime presents accusations of Herod's disloyalty to the Emperor which Herod can not disprove. Herod is removed from Galilee and exiled to a remote Roman outpost, Lyon, in Gaul.

Herodias, by virtue of her own connections, is exempt from this exile. Nevertheless, and perhaps surprisingly, she chooses to stay with Herod, and both of them disappear from historic record. Herod and Herodias play out their love story to the end and perhaps this one sacrificial gesture ennobles her at last.

The drama of John's beheading and the crucifixion of Jesus are minor events in the passionate love story of Herod and Herodias.



Here is where my awkward sympathy lies with Herod. Are Jesus and John the Baptist footnotes to my own passions and the dramas of my own personal history?

Do I not make choices every day like Pilate and Herod, appeasing others, acquiescing to my culture, societal expectations, and to maintain my standard of living? Do I accept the way things are with such studied ignorance and self-interest? Is my love for God, for justice, for the kingdom, as powerful as my devotion to distractions, glittering things, and self-preservation?

Will I end my days torn between two loves - one worldly - and the other drawing me toward the eternal heart of the universe? This eternal love calls to me in the wilderness of my soul - repent, forsake your sins, and prepare the way for the Holy One of God.

Is my love for God as strong as death?


*"What is truth?" Anagrams were popular with Romans of antiquity. For example, Pilate used "Quid est veritas" (What is truth?), an anagram of "Est vir qui adest" (It is the man who is here).
The Dance of Salome, Gozolli, 1461-62
SALOME [Kneeling.]
I would that they presently bring me in a silver charger . .

HEROD
[Laughing.] In a silver charger? Surely yes, in a silver charger. She is charming, is she not? What is it that thou wouldst have in a silver charger, O sweet and fair Salome, thou that art fairer than all the daughters of Judæa? What wouldst thou have them bring thee in a silver charger? Tell me. Whatsoever it may be, thou shalt receive it. My treasures belong to thee. What is it that thou wouldst have, Salome?

-Oscar Wilde 1854-1900
Salome
Website powered by Network Solutions®