About This Week's Prompts for Personal Meditation

Montaigne said, "It's not the want, but rather abundance that creates avarice." As soon as Jesus begins the parable, we don't much like this rich farmer congratulating himself for earth's bounty, planning to pull down his barns to build bigger ones, hording not for wisdom's sake on behalf of neighbors to protect them from famine, but for his own selfish pleasure and accumulating profit. Jesus said, "Take care! Be on your guard against all kinds of greed; for one's life does not consist in the abundance of possessions."

I thought of Soames Forsyte (meditation one) sitting in the splendor of an autumn day not quite understanding (after 921 pages!) that beauty cannot be grasped and possessed, and Midas, who lost all he had to the much anticipated magic that turned everything he touched to gold (meditation two). The rich farmer's foolishness also reminded me of a Sufi story of universal reverence for a famous cow (meditation three) despite that cow's propensity to kick the bucket of perfect milk so that no one actually ever drank it. "You fool! This very night your life is being demanded of you!"

Rather, Jesus said, "be rich toward God." And that's what we're invited to discover day by day.

Wishing you a wealth of blessings,
Suzanne

Meditation One
you just don't get it, do you?

In this scene, Soames Forsyte, the "man of property," reflects upon his life as he sits near the family tomb at Highgate cemetery.

Softened by the events of the past week, affected by the melancholy beauty of the autumn day, Soames came nearer than he had ever been to realization of that truth - passing the understanding of a Forsyte pure - that the body of Beauty has a spiritual essence, uncapturable save by a devotion which thinks not of self. After all, he was near that truth in his devotion to his daughter; perhaps that made him understand a little how he had missed the prize. …

… And only one thing really troubled him, sitting there - the melancholy craving in his heart - because the sun was like enchantment on his face and on the clouds and on the golden birch leaves, and the wind's rustle was so gentle, and the yew-tree green so dark, and the sickle of a moon pale in the sky.
He might wish and wish and never get it - the beauty and the loving in the world!

-John Galsworthy 1867-1933
The Forsyte Saga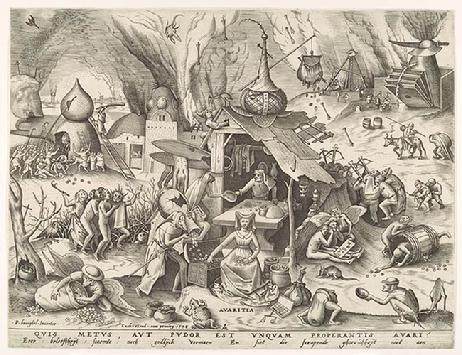 Avaritia, Pieter van der Heyden after Pieter Bruegel the Elder, 1588
RICH TOWARD GOD




He who distinguishes the true savor of his food can never be a glutton; he who does not cannot be otherwise.

-Henry David Thoreau 1817-1862



No one can serve two masters; for either he will hate the one and love the other, or he will be devoted to the one and despise the other. You cannot serve God and mammon.

Therefore I tell you, do not be anxious about your life, what you shall eat or what you shall drink, nor about your body, what you shall put on. Is not life more than food, and the body more than clothing? Look at the birds of the air: they neither sow nor reap nor gather into barns, and yet your heavenly Father feeds them. Are you not of more value than they?

And which of you by being anxious can add one cubit to his span of life? And why are you anxious about clothing? Consider the lilies of the field, how they grow; they neither toil nor spin; yet I tell you, even Solomon in all his glory was not arrayed like one of these. But if God so clothes the grass of the field, which today is alive and tomorrow is thrown into the oven, will he not much more clothe you, O men of little faith?

Therefore do not be anxious, saying, `What shall we eat?' or `What shall we drink?' or `What shall we wear?' For the Gentiles seek all these things; and your heavenly Father knows that you need them all. But seek first his kingdom and his righteousness, and all these things shall be yours as well.

Matthew 7:24-33



The Prodigal Son, Gerrit Van Honthorst, 1622 (the young man's new "friends" prey on his wealth.)
Meditation Two
expensive breakfast

In this re-told tale, King Midas has been given the ability to turn to gold all that he touches - including his food, his garden roses, and, later in the story, his beloved daughter.

And, truly, my dear little folks, did you ever hear of such a pitiable case in all your lives? Here was literally the richest breakfast that could be set before a king, and its very richness made it absolutely good for nothing. The poorest laborer, sitting down to his crust of bread and cup of water, was far better off than King Midas, whose delicate food was really worth its weight in gold. And what was to be done? Already, at breakfast, Midas was excessively hungry. Would he be less so by dinner time? And how ravenous would be his appetite for supper, which must undoubtedly consist of the same sort of indigestible dishes as those now before him! How many days, think you, would he survive a continuance of this rich fare?

-Nathaniel Hawthorne 1804-1864
The Golden Touch



Meditation Three
kicking the bucket

Once upon a time there was a cow. In all the world there was no animal which so regularly gave so much milk of such high quality. People came from far and wide to see this wonder. The cow was extolled by all. Fathers told their children of its dedication to its appointed task. Ministers of religion adjured their flocks to emulate it in their own way. Government officials referred to it as a paragon which right behavior, planning and thinking could duplicate in the human community. Everyone was, in short, able to benefit from the existence of this wonderful animal.
There was, however, one feature which most people, absorbed as they were by the obvious advantages of the cow, failed to observe. It had a little habit, you see. And this habit was that, as soon as a pail had been filled with its admittedly unparalleled milk - it kicked it over.

-Idries Shah 1924-1996
Wisdom of the Idiots



The Last Word

Earth provides enough to satisfy everyone's need, but not everyone's greed.


-Mahatma Gandhi 1869-1948
Let your continual mercy, O Lord, cleanse and defend your Church; and, because it cannot continue in safety without your help, protect and govern it always by your goodness; through Jesus Christ our Lord, who lives and reigns with you and the Holy Spirit, one God, for ever and ever. Amen.

Collect for Proper 13
American Book of Common Prayer
Website powered by Network Solutions®