The Gospel Reading

The apostles said to the Lord, "Increase our faith!" The Lord replied, "If you had faith the size of a mustard seed, you could say to this mulberry tree, 'Be uprooted and planted in the sea,' and it would obey you.
Who among you would say to your slave who has just come in from plowing or tending sheep in the field, 'Come here at once and take your place at the table'? Would you not rather say to him, 'Prepare supper for me, put on your apron and serve me while I eat and drink; later you may eat and drink'? Do you thank the slave for doing what was commanded? So you also, when you have done all that you were ordered to do, say, 'We are worthless slaves; we have done only what we ought to have done!'" -Luke 17:5-10


About This Week's Prompts for Personal Meditation

So often in the news, a man or woman interviewed after a heroic act - diving into a freezing river to save a child fallen through the ice, jumping onto tracks to save someone pushed off the subway platform - insists, "I'm not a hero. I didn't even think about it. I just did what I needed to do in the moment." And so say the 'worthless slaves' in this parable: we have done only what we ought to have done! But don't underestimate the enormity, the intensity, the far-reaching influence of simple, prepared-in-little-things faithfulness.

Heroic achievements lie dormant in a tiny seed of faith. The immense oak with thick and sturdy branches you can walk along balancing yourself high above the ground was once an acorn. A gorgeous orchid emerged from an invisible seed weighing less than a microgram. That mulberry seed stuck between your teeth then spit out - will one day root so deeply that only Jesus at the Second Coming will be able to extract it from the hard ground (no doubt planting it in the sea).

Increase our faith, said the disciples. You already have the faith you need. Simply do what you have to do in the moment. The miracle lies inherent in ordinariness.

Faithful in the little things,
-Suzanne

Meditation One (introit)
learning from seeds

What man saw in the grain, what he learnt when dealing with it, what he was taught by the example of seeds changing their form when they are in the ground, that was the decisive lesson … One of the main roots of soteriological optimism was the belief of prehistoric, agricultural mysticism that the dead, like seeds underground, can return to life in a different form.

-Mircea Eliade 1907-1986
The Myth Of Eternal Return


What though my body run to dust?
Faith cleaves unto it, counting ev'ry grain
With an exact and most particular trust,
Reserving all for flesh again.

-George Herbert 1593-1633
Faith, last stanza

Truly, truly I say to you, unless a grain of wheat falls into the earth and dies, it remains alone; but if it dies, it bears much fruit.

-John 12:24

Miscellany

Jesus said, If two make peace with each other in this one house, they will say to the mountain, 'Move Away', and it will move away.

-The Gospel of Thomas, #48

Faith is not belief without proof
but trust without reservation.

– D. Elton Trueblood 1900-1994

Nothing before, nothing behind;
The steps of Faith
Fall on the seeming void, and find
The rock beneath.

The Present, the Present is all thou hast
For thy sure possessing;
Like the patriarch's angel hold it fast
Till it gives its blessing.
…
Then of what is to be, and of what is done,
Why queriest thou?
The past and the time to be are one,
And both are now!

John Greenleaf Whittier
excerpts from the poem "The Soul and I"
Cross as the Tree of Life, Mosaic, circa 1200, San Clemente, Rome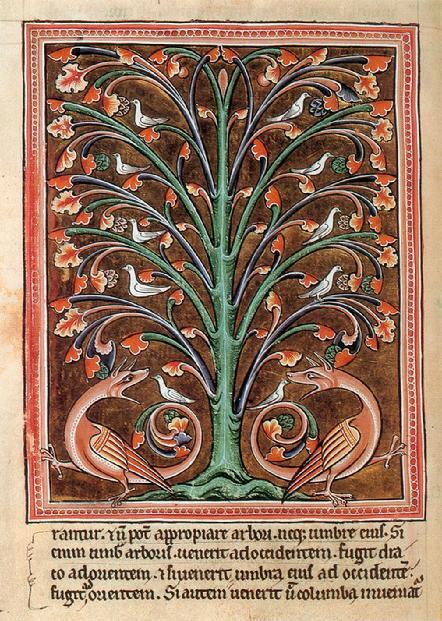 Perindens, Magic Tree, Keeper of Birds, c.1220
Meditation Two (insight)
Dark Faith

Where have You hidden,
Beloved, and left me moaning?
You fled like the stag
After wounding me;
I went out calling You, and You were gone.

Faith and love are like the blind man's guides. They will lead you along a path unknown to you, to the place where God is hidden. Faith, the secret we mentioned, is comparable to the feet by which one journeys to God, and love is like one's guide. In dealing with these mysteries and secrets of faith, the soul will merit through love the discovery of the content of faith, that is, the Bridegroom Whom she desires to possess in this life through the special grace of divine union with God, as we said, and in the next through the essential glory, by which she will rejoice in Him not in a hidden way, but face to face. [1 Cor. 13:12]

-John of the Cross 1542-1591
The Spiritual Canticle 1:11

Meditation Three (integration)
doing, following

The word 'faith' (pistis, in the Greek) is often spoken about as if it meant trying to talk ourselves into intellectual assent to something, with "increasing our faith" meaning that we are successfully persuading ourselves that we have adopted an idea we think is ridiculous. That's not faith; it's self-deception, and usually a pretty unsuccessful kind of self-deception that results in our feeling a little guilty and hypocritical, as we know that we don't actually believe what we say.
But faith is not about intellectual projection and assessment; it is not an intellectual analogue to that process we go through to build and maintain hubris. Faith is relationship -- a relationship of trust, of allegiance. When Jesus talks about "faith," he's not talking about what you do in your head; he's talking about what you do with your hands and your feet, your wallet and your privilege, your power and your time. Faith in Jesus is not shown by saying or thinking things about him, but by following him.

-Sarah Dylan Breuer
Dylan's Lectionary Blog for Proper 22C
www.SarahLaughed.net

The Last Word

The life of faith is the untiring pursuit of God through all that disguises and disfigures him and, as it were, destroys and annihilates him.

-Jean-Pierre de Caussade 1675-1751
Sacrament of the Present Moment

To others faith is the bright serenity of unclouded vision; to me it is the angel of an agony, the boon of daily and hourly conflict.

-John Neville Figgis 1866-1919

Smaller than a Mustard Seed

When I was a teenager, my father taught me to do simple urine analysis where he ran the local hospital laboratory. Looking under the microscope one day I saw sperm swimming like pollywogs in the drop on the slide. I called to my Dad who said, "It's not necessary to note that in this lab report."

Every person began as an infinitesimal ovum joined to an even tinier sperm; Gandhi, Paris Hilton, Hitler, Houdini. I marvel at my own four grown children - differing from one another in appearance, temperament, talent, tastes, direction in life, ways of solving problems, humor. Yet, the eggs and sperm that generated their lives came from the same two sources - their father and me.

Sometime in May of 1950 my parents conceived me - a little red-headed girl born of their love and love-making. My own complexity generated from those early cells, blossoming into me, who I am, who I am becoming. My parents are dead, but even in middle age I'm still growing, thriving and contributing uniquely to the human endeavor, the planet's life force, the universe adventure.

The Christian religious tradition celebrates the by-pass of this miracle for a lesser miracle. According to the Gospels of Matthew and Luke, the conception of Jesus was exempt from human sex. But I say egg and sperm engaging is more miraculous than the Holy Spirit descending into the ear, or hovering over the womb. Word penetrating mind and heart and soul takes place whenever your pray. (Which may be the point of the story anyway.)
But the universe latent within an infinitesimal seed? Jesus said that's all the faith it takes to uproot a mulberry tree and plant it in the ocean, if you wanted to do that. That's Jesus' ageless humor showing. A trait he no doubt inherited with the miracle of conception.
Website powered by Network Solutions®