Sunday's Gospel Reading

When the Pharisees heard that he had silenced the Sadducees, they gathered together, and one of them, a lawyer, asked him a question to test him. "Teacher, which commandment in the law is the greatest?" He said to him, "'You shall love the Lord your God with all your heart, and with all your soul, and with all your mind.' This is the greatest and first commandment. And a second is like it: 'You shall love your neighbor as yourself.' On these two commandments hang all the law and the prophets."
Now while the Pharisees were gathered together, Jesus asked them this question:"What do you think of the Messiah? Whose son is he?" They said to him, "The son of David." He said to them, "How is it then that David by the Spirit calls him Lord, saying, 'The Lord said to my Lord, "Sit at my right hand, until I put your enemies under your feet"'? If David thus calls him Lord, how can he be his son?" No one was able to give him an answer, nor from that day did anyone dare to ask him any more questions.
-Matthew 22:34-46
"But HOW am I to love God with all my heart and my neighbor as myself?" persists Francis de Sales in conversation with the Bishop of Geneva (Miscellany). "Heartily!" answers the Bishop again and again until pressed to answer more seriously. Then, "The only way to attain that love is by loving."

And loving God not as you love your cow - as a giver of milk and cheese - for whatever you can "get" from God (Meditation One). Rather, love is love's own reward rendering happiness (Meditation Two). Love transforms you, equipping you with the very love you need to touch the Divine Holy in God's most "distressing disguise" (Meditation Three).

Lovingly,
Suzanne

Meditation One (Introit)
As They Love Their Cow

Some people want to see God with their eyes as they see a cow, and to love Him as they love their cow- for the milk and cheese and profit it brings them. This is how it is with people who love God for the sake of outward wealth or inward comfort. They do not rightly love God, when they love Him for their own advantage. Indeed, I tell you the truth, any object you have in your mind, however good, will be a barrier between you and the inmost Truth.

-Meister Eckhart 1260-1327

Cows, Vincent Van Gogh, July 1890
Miscellany

O Lord, whatever share of this world
You could give to me,
Give it to your enemies:
Whatever share of the next world
You want to give to me -
Give it to your friends.
You are enough for me.
O God, my whole concern and desire in this world,
Is that I should always remember you
Above all the things of this world,
And that in the next
I should meet with you alone.
That is why I always pray:"Your will be done."

O my Lord,
if I worship you
from fear of hell, burn me in hell.
If I worship you
from hope of Paradise, bar me from its gates.

But if I worship you
for yourself alone, grant me then the beauty of your Face.
Rābiʿah al-Baṣrī 713/17-801
Sufi saint
Quoted from The Essential Mystics, Andrew Harvey

With this single act of charity, Francis was apparently transformed, for when he returned to Umbria he not only resumed his restoration of San Diamiano but also began to nurse lepers, a task rarely undertaken by anyone. This involved not only begging food on their behalf and feeding them, but carrying them to a nearby brook or stream to wash their sores. "For God's sake, he served all of them with great love. He washed all the filth from them, and even cleaned out the pus of their sores." His care, in other words, meant more than merely not showing revulsion. It meant a willingness to be with them precisely because they were outcast. It meant taking with grave literalness the standard of the Gospel that to minister to the needy was to minister to the lonely, naked and dying Christ. …

In nursing the world's outcasts, Francis had begun to rise to the genuine nobility he had long sought, which was to be discovered not in armor, or in titles or battles, glory or contests. Honor would be found not in associating with the strongest, the most attractive, the best dressed or the most secure people in society, but with the weakest, the most disfigured, those who were marginalized, dependent and despised.
-Donald Spoto
Reluctant Saint: The Life of Francis of Assisi
I once asked the Bishop of Geneva what one must do to attain perfection. "You must love god with all your heart," he answered, "and your neighbor as yourself."
"I did not ask wherein perfection lies," I rejoined, "but how to attain it." "Charity," he said again, "that is both the means and the end, th only way by which we can reach that perfection which is, after all, but charity itself …. Just as the soul is the life of the body, so charity is the life of the soul."
"I know all that," I said. "But I want to know how one is to love God with all one's heart and one's neighbor as oneself."
But again he answered, "We must love God with all our hearts, and our neighbor as ourselves."
"I am no further than I was," I replied. "Tell me how to acquire such love."
"The best way, the shortest and easiest way of loving God with all one's heart is to love him wholly and heartily!"
He would give no other answer. At last, however, the Bishop said, "There are many besides you who want me to tell them of methods and systems and secret ways of becoming perfect, and I can only tell them that the sole secret is a hearty love of God, and the only way of attaining that love is by loving. You learn to speak by speaking, to study by studying, to run by running, to work by working; and just so you learn to love God and man by loving. All those who think to learn in any other way deceive themselves. If you want to love God, go on loving Him more and more. Begin as a mere apprentice, and the very power of love will lead you on to become a master in the art. Those who have made most progress will continually press on, never believing themselves to have reached their end; for charity should go on increasing until we draw our last breath."

-Francis de Sales 1567-1722 is "speaking" but I think this was written by Jean Pierre Camus 1584-1652

The Good Samaritan, Vincent van Gogh, after Delacroix, 1890
Meditation Two (Insight)
Its Own Enjoyment

Love seeks no cause beyond itself and no fruit; it is its own fruit, its own enjoyment. I love because I love; I love in order that I may love.... Of all the motions and affections of the soul, love is the only one by means of which the creature, though not on equal terms, is able to treat with the Creator and to give back something resembling what has been given to it. What God loves, he only desires to be loved, knowing that love will render all those who love Him happy.


-Bernard of Clairvaux 1090-1153
Meditation Three (Integration)
Touching Him...

Love God and you will be humble; love God and you will throw off the love of self; love God and you will love all that He gives you to love for love of Him.



-Francois Fenelon 1651-1715
Loving as He loves,
Helping as He helps,
Giving as He gives,
Serving as He serves,
Rescuing as He rescues,
Being with Him twenty-four hours,
Touching Him in his distressing disguise.

-Mother Teresa of Calcutta 1910-1997

The Last Word

Let everyone understand that real love of God does not consist in tear-shedding, nor in that sweetness and tenderness for which usually we long, just because they console us, but in serving God in justice, fortitude of the soul and humility.
-Teresa of Avila 1515-1582

Tour guides on the Mount of Olives will show you a cave associated with holy women of three traditions. Jews say that it is the burial site of Huldah, the prophetess who spoke to kings and high priests, mentioned in 2 Kings and 2 Chronicles. The Christians say it is the cave of St. Pelagia, the beautiful harlot who became a hermit and lived on the Mount of Olives. Moslems say it is the cave of Rabia, the holy Sufi saint from Basra, who died in Jerusalem.
With today's reading I'm thinking about the love Rabia had for God. When she was a slave she worked all day and then prayed through the night (eventually shaming her owners, I think, with her devotion.) When she was freed she spurned suitors to live a radically ascetic life witnessing to God's love. Rabia said,
O my Lord,
if I worship you
from fear of hell, burn me in hell.
If I worship you
from hope of Paradise, bar me from its gates.
But if I worship you
for yourself alone, grant me then the beauty of your Face.*
Love for love's sake is reason enough to pray. Loving what the Beloved loves – your neighbors - is inevitable. A simple act of prayer can turn you into an activist - loving God and neighbor.
-Suzanne
* see more of this quote in Miscellany

Love God and you will be humble; love God and you will throw off the love of self; love God and you will love all that He gives you to love for love of Him.



-Francois Fenelon 1651-1715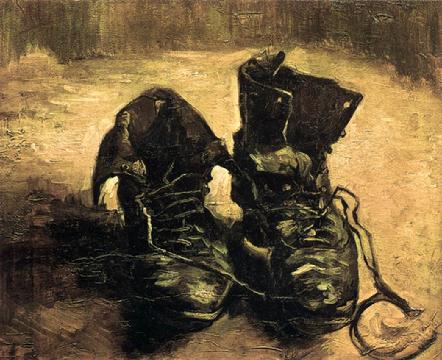 A Pair of Shoes, Vincent Van Gogh, 1886
Website powered by Network Solutions®