(vulture)

12 Lamentation,

Mary receives the
body of Jesus at the
foot of the Cross



What can I say for you, to what compare you, O daughter of Jerusalem? What can I liken to you, that I may comfort you, O virgin daughter of Zion? For vast as the sea is your ruin; who can restore you? Lamentations 2:13
But standing by the cross of Jesus were his mother, and his mother's sister, Mary the wife of Clopas, and Mary Magdalene. When Jesus saw his mother, and the disciple whom he loved standing near, he said to his mother, "Woman, behold, your son!" Then he said to the disciple, "Behold, your mother!" And from that hour the disciple took her to his own home. After this Jesus, knowing that all was now finished, said (to fulfill the scripture), "I thirst." A bowl full of vinegar stood there; so they put a sponge full of the vinegar on hyssop and held it to his mouth. When Jesus had received the vinegar, he said, "It is finished"; and he bowed his head and gave up his spirit.
John 19:25b-30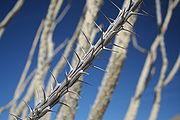 Thorns
Stabat mater dolorosa (opposite column)
Our father Ö
Almighty God, whose beloved Son willingly endured the agony and shame of the cross for our redemption: Give us courage to take up our cross and follow him; who lives and reigns with you and the Holy Spirit, one God, now and for ever. Amen. (collect of the Holy Cross)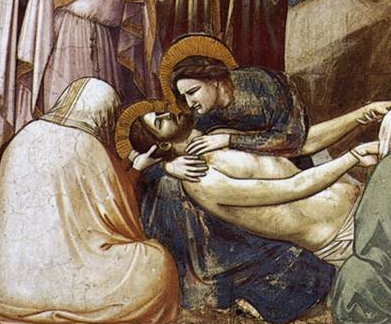 Lamenation, Giotto, 1304-6, detail
Stabat Mater dolorosa

At the cross her vigil keeping, stood the mournful mother weeping,
Where he hung, the dying Lord:


There she waited in her anguish, seeing Christ in torment languish,i
n her heart the piercing sword.

With what pain and desolation, with what grief and resignation,
Mary watched her dying son.


Deep the woe of her affliction, when she saw the crucifixion
Of the sole begotten one.

Him she saw for our salvation mocked with cruel acclamation,
Scourged, and crowned with thorns entwined;


Saw him then from judgment taken, and in death by all forsaken,
Till his spirit he resigned.

Who, on Christís dear mother gazing, pierced by anguish so amazing
Born of woman, would not weep?


Who, on Christís dear mother thinking, such a cup of sorrow drinking,
Would not share her sorrows deep?

Jesus, may her deep devotion stir in me the same emotion,
Fount of love, Redeemer kind;


That my heart fresh ardor gaining, and a purer love attaining,
May with thee acceptance find.

Latin, 13th century

Website powered by Network Solutions®