Supper at Emmaus Detail-Swallow, Bassano, 1538

3

The Nativity



Jesus is born
to Mary
in Bethlehem



But you, O Bethlehem Ephrathah, who are little to be among the clans of Judah, from you shall come forth for me one who is to be ruler in Israel, whose origin is from of old, from ancient days. Therefore he shall give them up until the time when she who is in travail has brought forth; then the rest of his brethren shall return to the people of Israel. And he shall stand and feed his flock in the strength of the LORD, in the majesty of the name of the LORD his God. And they shall dwell secure, for now he shall be great to the ends of the earth. Micah 5:2-4
And Joseph also went up from Galilee, from the city of Nazareth, to Judea, to the city of David, which is called Bethlehem, because he was of the house and lineage of David, to be enrolled with Mary, his betrothed, who was with child. And while they were there, the time came for her to be delivered. And she gave birth to her first-born son and wrapped him in swaddling cloths, and laid him in a manger, because there was no place for them in the inn. Luke 2:2-7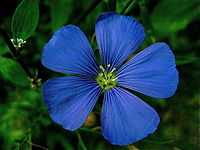 Flax flower
The prologue of John (opposite column)


Our father…

Almighty God, you have poured upon us the new light of your incarnate Word:

Grant that this light, enkindled in our hearts, may shine forth in our lives; through Jesus Christ our Lord, who lives and reigns with you, in the unity of the Holy Spirit, one God, now and for ever.

Amen.

(BCP collect for the First Sunday after Christmas Day)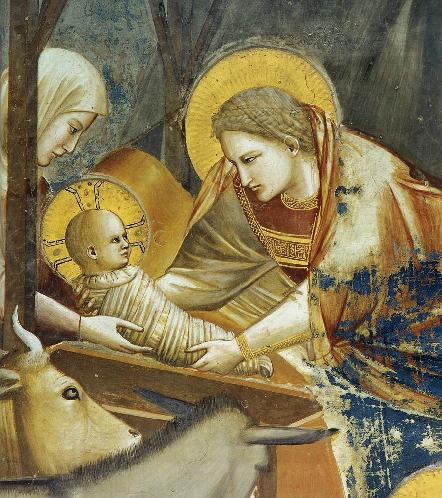 Nativity, Giotto, Scenes from the Life of Christ, 1304, detail
From the Prologue of John
In the beginning was the Word;
And the Word was with God and the Word was God.
He was in the beginning with God;
All things were made through him,
And without him was not anything made that was made.
In him was life, and the life was the light of men.
The light shines in the darkness, and the darkness has not overcome it …
We have beheld his glory, glory as of the holy Son from the Father …
And from his glory we have received grace upon grace.
John 1:1-5, 14, 16


Continue to the next meditation
THE VISITATION OF THE SHEPHERDS

Notes



Bird: swallow's nest and swallows (evoking Psalm 84),Plant: flax for linen of swaddling clothes – also seen in Hours of the Cross for wiping Jesus' face / laid in tomb with cloths / linen wrappings after resurrection - must be obvious connection visually. Symbol: Sun Revelation 12:1 Mary the Dawn



Website powered by Network Solutions®