Advent III Rend your hearts and return to me

"Yet even now," says the Lord, "return to me with all your heart,
with fasting, with weeping, and with mourning;
and rend your hearts and not your garments."
Return to the Lord, your God for he is gracious and merciful,
slow to anger, and abounding in steadfast love,
and repents of evil. Joel 2:12-13
The Advent mystery is the beginning of the end
of all in us that is not yet Christ.


-

Thomas Merton

In the desert wilderness of the soul we're stripped of the distractions of wealth and leisure, illusions that come with rank, honor, status, power.

In this context we find no cause for vanity, no reason for pride, no excuses for poor behavior. Implicit in the perilous landscape is the question, "What have you done with your life?"

John the baptizer appeared in the wilderness, preaching a baptism of repentance for the forgiveness of sins.
Mark 1:4 John meets us in this wilderness of the soul, calling us to open the veil protecting us from knowing the consequences of our exploitation, calling us to expose the slight-of-hand by which we justify greed. Conversion, whether subtle or sudden, requires a permanent change of heart, a profound shift of the mind, a reformation of life.

Turning from sin, we turn toward light. There was a man sent from God, whose name was John. He came as a witness to testify to the light, so that all might believe through him. He himself was not the light, but he came to testify to the light. The true light, which enlightens everyone, was coming into the world.

John 1:6-9

In iconography John is portrayed sometimes with wings, for he is a messenger, however discheveled and disrespectful. He testifies to the light, gently instructing how to unburden the soul from sin, for we may find ourselves again and again with Augustine, "swept up to Thee by Thy Beauty, and torn away from Thee by my own weight." Confessions vii:xvii

Preaching conversion and repentance, John draws us into the purgative way of prayer.





Quotes:



Repentance

True repentance, then, is not an expression of fear, self-hate or of a neurotic sense of guilt, but an ordinary , simple, natural way of loving God.

It is a meeting with God, who has loved us infinitely, whom we love and whose beauty and perfection we long to see, from whom we are separated by sin.

True repentance, holy repentance, is the way of love. It is only possible when we stand before the face of God and are moved "out of our minds," beyond the confines of our little narrow selves, by our longing for him.

p.

67 The Way of Repentance, Irma Zaleski,

Novalis/Continuum 1999





For although [Mary Magdalene] could never rid herself of the deep sorrow of her heart for her sins, all her lifetime she carried them with her wherever she went, as it were in a bundle bound together and stored secretly in the cavern of her heart, in a way that could never be forgotten.

Yet it still can be said, and is affirmed by holy scripture, that she had a greater sorrow of heart for her lack of love than for any awareness of her sins.

She had a more sorrowing desire, a deeper sighing; she languished almost to the point of death for her lack of love, though she had very great love.

And we are not to wonder at this; for it is the nature of a true lover that the more he loves the more he longs to love.

p.

154 The Cloud of Unknowing, Paulist Press 1981 (14th Century)


The man who knows his sins is greater than one who raises a dead man by his prayer. .... He who sighs and grieves within himself for an hour is greater than one who teaches the entire universe. He who knows his own weakness is greater than one who sees angels. ... He who follows Christ, alone and contrite, is greater than one who enjoys the favor of crowds in the churches. -St. Isaac the Syrian (Discourse 34)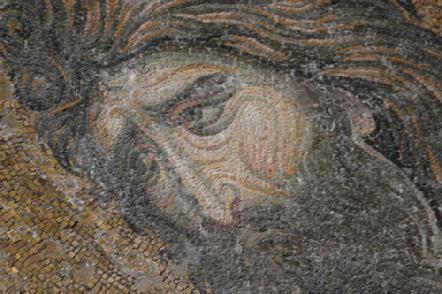 John the Baptist, Hagia Sophia
Evelyn Underhill on "The Purification of the Self" Mysticism
To be a spectator of Reality is not enough. The awakened subject is not merely to perceive transcendent life, but to participate therein; and for this, a drastic and costly life-changing is required. p.195
Here, then, stands the newly awakened self: aware, for the first time, of reality, responding to that reality by deep movements of love and of awe. She sees herself, however, not merely to be thrust into a new world, but set at the beginning of a new road. Activity is now to be her watchword, pilgrimage the business of her life. p.198
What must be the first step of the self upon this road to perfect union with the Absolute? Clearly, a getting rid of all those elements of normal experience which are not in harmony with realiy: of illusion, evil, imperfection of every kind. … A literal and deliberate getting out of the cave must be for every mystic, as it was for Plato's prisoners, the first step in the individual hunt for reality. … Primarily, then, the self must be purged of all that stands between it and goodness: putting on the character of reality instead of the character of illusion or "sin." It longs ardently to do this from the first moment in which it sees itself in the all-revealing radiance of the Uncreated Light. p.198-199
Whatever form, then, the mystical adventure may take it, must begin with a change in the attitude of the subject; … Therefore, though the end of mysticism is not adequately defined as goodness, it entails the acquirement of goodness.

The virtues are the "ornaments of the spiritual marriage" because that marriage is union with the Good no less than with the Beautiful and the True. P.199
Collect for the Third Sunday of Advent
Stir up your power,
O Lord, and with great might come among us;
and, because we are sorely hindered by our sins,
let your bountiful grace and mercy
speedily help and deliver us;
through Jesus Christ our Lord,
to whom, with you and the Holy Spirit,
be honor and glory, now and for ever. Amen.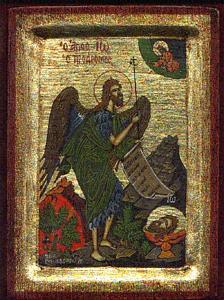 John the Baptist, Aggelos tes heremou
Website powered by Network Solutions®