Last Sunday of Epiphany

"Ineffable Light"

The church approaches this Sunday with breathless reverence and deep awe. On Epiphany Day we prayed, "O God, by the leading of a star you manifested your only Son to the peoples of the earth: Lead us, who know you now by faith, to your presence, where we may see your glory face to face." Today, we witness this glory with Peter, James, and John, in the luminous Cloud of Presence, hearing the Divine Voice, "This is my Son, the Beloved, Listen to him."


But haven't we been listening?

Perhaps.

But now at the climax and conclusion of the Galilean ministry, Jesus' "face is set toward
Jerusalem
." We hear the dread in that phrase. In Luke's account of the Transfiguration Moses and Elijah speak with Jesus about his "exodus" that is, his passion and death.

Will we go with him?

Will we listen?

At what point, and for what reason might we stop listening, or leave him altogether?


But today, Eternity breaks into this moment unveiled, uncreated Light showing forth in the Christ come into the world.

The church completes the season of Epiphany with another theophany, the voice from heaven, echoing the Baptism of Jesus.

Parallel to Epiphany, you and I have practiced the
Illuminative Way
of mystical prayer: exploring love, friendship, and intimacy as this Light is manifested within us.


For it is the God who said, "Let light shine out of darkness," who has shone in our hearts to give the light of the knowledge of the glory of God in the face of Christ.
2 Corinthians 4:6
Meditation One
The Light that never changes
With precision and beauty Augustine describes this Light within the soul.

I entered into the secret closet of my soul, led by Thee; and this I could do because Thou wast my helper.

I entered, and behold with the mysterious eye of my soul the Light that never changes, above the eye of my soul, above my intelligence.

It was not the common light which all flesh can see, nor was it greater yet of the same kind, as if the light of day were to grow brighter and brighter and flood all space.

It was not like this, but different: altogether different from all such things.

Nor was it above my intelligence in the same way as oil is above water, or heaven above earth; but it was higher because it made me, and I was lower because made by it.

He who knoweth the truth knoweth that Light: and who knoweth it, knoweth eternity.

Love knoweth it.

Augustine, Confessions, book 7 chapter 10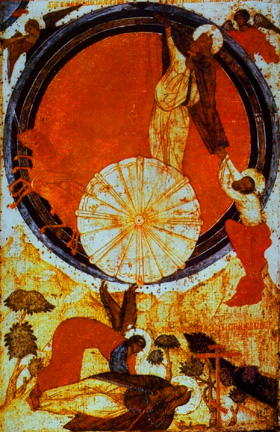 Elijah's Ascent to Heaven, North Russian School, 16th Century
Meditation Two

Becoming Fire
In Sunday's lesson from Hebrew scriptures, Elisha watches as Elijah ascends into heaven by whirlwind within a chariot of fire drawn by blazing horses. The first quote rhymes with Augustine's description of Light in the soul. The second exhorts a seeker to "become flame"
When the soul is counted worthy to enjoy communion with the Spirit of the light of God, and when God shines upon the soul with the beauty of his ineffable glory, preparing her as a throne and dwelling for himself, she becomes all light, all face, all eye.

Then there is no part of her that is not full of the spiritual eyes of light.

There is no part of her that is in darkness, but she is transfigured wholly and in every part with light and spirit.

Just as the sun is the same throughout, having neither back nor anything irregular, but is wholly glorified with light and is all light, being transformed in every part; or as fire, with its burning sheath of flame, is constant throughout, having neither a beginning nor an end, being neither larger nor smaller in any part, so also when the soul is perfectly illumined with the ineffable beauty and glory of the light of Christ's countenance, and granted perfect communion with the Holy Spirit and counted worthy to become the dwelling-place and throne of God, then the soul becomes all eye, all light, all face, all glory, all spirit.

Pseudo-Macarius (4th Century), Spiritual Homilies, Alphabetical Collection "H,"1,2;Coptic Apophthegms, Paris, 1894 in Celebrating the Saints, Devotional Readings for Saint's Days Morehouse Publishing

Abbot Lot came to Abbot Joseph and said: Father, according as I am able, I keep my little rule, and my little fast, my prayer, meditation and contemplative silence; and according as I am able I strive to cleanse my heart of thoughts: now what more should I do?

The elder rose up in reply and stretched out his hands to heaven, and his fingers became like ten lamps of fire, He said: Why not be totally changed into fire?


Thomas Merton, The Wisdom of the Desert p50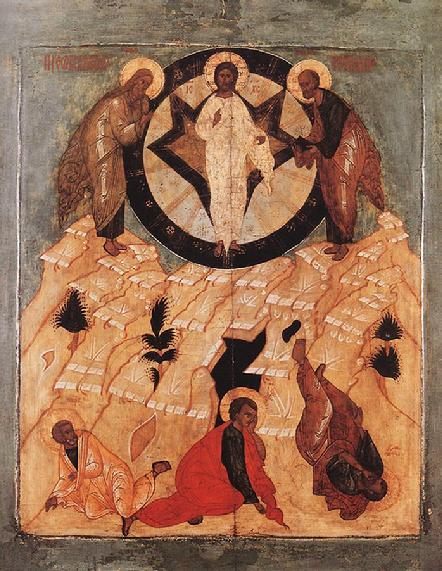 Unknown Master, 16th Century, Hermitage Museum
Today on Tabor in the manifestation of your light, O Lord,
your light unaltered from the light of the unbegotten Father,
we have seen the Father as light, and the Spirit as light,
guiding with light the whole creation.

Orthodox Liturgy, Feast of Transfiguration




Meditation Three

Awed and feeling little
Let us come down, now, out of light and flame and ecstasy. Christian mystics teach that when the soul is flooded with too much brightness, our soul, our prayer, recoils into darkness much the same way our eyes involuntarily squeeze shut when we flip on the kitchen light in the middle of the night.

I love that our modern lectionary places us at the Transfiguration just days before Ash Wednesday.

This way, we can practice the season of our soul freefalling from light to darkness in a flash. When this happens in our soul's journey, we can say, ah, this is like Ash Wednesday just after the Last Sunday of Epiphany. Perhaps my soul is flooded with Light, but I perceive darkness, because I cannot yet appropriate the Light.

And why can I do?

Practice Lent.


Pascal's existential searching in face of Mystery can help initiate the fundamental questions of the season of the soul before us.
When I consider the short duration of my life, swallowed up in the eternity before and after, the little space which I fill, and even can see, engulfed in the infinite immensity of spaces of which I am ignorant, and which know me not, I am frightened, and am astonished at being here rather than there; for there is no reason why here rather than there, why now rather than then?

Who has put me here?

By whose order and direction have this place and time been allotted to me?

Blaise Pascal (1623-62) Pensees, 205

And one more desert saying to take us into the wilderness of Lent …

Abbess Syncletica of holy memory said: There is labour and great struggle for the impious who are converted to God, but after that comes inexpressible joy.

A man who wants to light a fire first is plagued by smoke, and the smoke drives him to tears, yet finally he gets the fire that he wants.

So also it is written:

Our God is a consuming fire.

Hence we ought to light the divine fire in ourselves with labour and with tears.


Thomas Merton, The Wisdom of the Desert, p55

Last Sunday after the Epiphany
O God, who before the passion of your only-begotten Son revealed his glory upon the holy mountain: Grant to us that we, beholding by faith the light of his countenance, may be strengthened to bear our cross, and be changed into his likeness from glory to glory; through Jesus Christ our Lord, who lives and reigns with you and the Holy Spirit, one God, for ever and ever. Amen.
Website powered by Network Solutions®