Fifth Sunday after Easter
"abide in me"

find this week's texts here
"The contemplative life, with its long slow growth and costly training" as
Evelyn
Underhill
puts it, prepares the human person for the life of compassion, union with the Holy … and with others.




Life is grounded in community. (As if living in families, neighborhoods - all our overlapping spheres of human interaction - weren't hard enough, monastic life in particular creates an environment rooted in the love of God in close quarters with other seekers. When I wrote Praying the Hours I surveyed monks with this question: "What is the hardest thing about monastic life?" "Other people," was the unanimous reply.) We are planted with neighbors.

Our vines and root systems enmesh. We drink the same water and breath the same air. But Jesus taught that you can't love God and not strive to love others.




This week's meditation prompts offer ways to pray about love of God and neighbor. Here's a phrase to ground this week's prayer-improvisation:

Bruno Barnhart (meditation 2) writes, "Abide in me": root yourselves in this central place, and remain rooted here, and my life will flow through you and bear fruit in the world.

-Suzanne

Meditation One

"engrafted to divinity"

And you, high eternal Trinity,
acted as if you were drunk with love,
infatuated with your creature.
When you saw that this tree could bear no fruit
but the fruit of death
because it was cut off from you who are life,
you came to its rescue
with the same love
with which you had created it:
you engrafted your divinity
into the dead tree of our humanity.
O sweet tender engrafting!
You, sweetness itself,
stooped to join yourself
with our bitterness.
- Catherine of Siena (d.1380)

The Prayers of Catherine of Siena, ed. Suzanne Noffke
Grapes, Tacuinum Sanitatis, 13th Century
Collect for the Fifth Sunday of Easter

O Almighty God, whom truly to know is everlasting life:

Grant us so perfectly to know thy Son Jesus Christ to be the way, the truth, and the life, that we may steadfastly follow his steps in the way that leads to eternal life; through Jesus Christ your Son our Lord, who lives and reigns with you, in the unity of the Holy Spirit, one God, for ever and ever. Amen.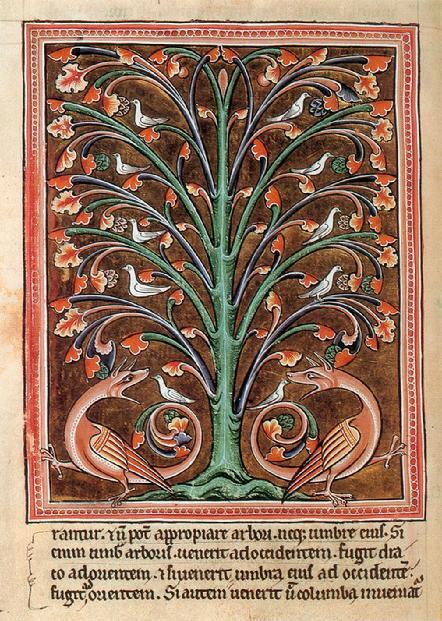 Perindens Tree, Oxford Bestiary, ca1220
Meditation Two

"unitive tree"

We cannot help conforming ourselves to what we love. - Francis de Sales


Love… transforms the lover into the one loved.

- Paul of the Cross


The Word is a tree which was in the world in the beginning, and when humanity sinned at the tree and at the tower they were banished from that unitive tree of the Word.

But this light of the Word is their life, and without it they die.

The human person is a tree which bears the light, the Word, within itself.

Speaking, naming, witnessing, preaching, confessing, from Adam to the Baptist to Jesus to Thomas, this is the human vocation in the world: to give witness to the truth.

The man born blind, receiving his light from Jesus, witnessed to the light that now had been born within him.

The fullness of this unitive tree is in Jesus, and now with his own disciples he pours out this fullness: the tree of the Word finds its fullest expression, comes into its roundness, bears its fruit. "Abide in me": root yourselves in this central place, and remain rooted here, and my life will flow through you and bear fruit in the world.


–Bruno Barnhart, The Good Wine: Reading John from the Center
Meditation Three

"engrafted to neighbors"


You, then, are my workers.

You have come from me, the supreme eternal gardener, and I have engrafted you onto the vine by making myself one with you.

Keep in mind that each of you has your own vineyard.

But everyone is joined to the neighbors' vineyards without any dividing lines.

They are so joined together, in fact, that you cannot do good or evil for yourself without doing the same for your neighbors.

–Catherine of
Siena
, Dialogue, The Vines That Are Tended by the Divine Gardener

(quoted from Mystics Visionaries and Prophets, Shawn Madigan, CSJ, editor)

The Last Word

God is love, and those who abide in love abide in God, and God abides in them. 1John
Website powered by Network Solutions®