Trinity Sunday
communion of subjects
the texts for Trinity Sunday, year b
A theology professor at my seminary was asked how to teach children about the Trinity. "You don't teach children about the Trinity," he replied.

After thirty years of Christian Education I'd say, "Teach children about the Trinity, but at the same time introduce them to multiple dimensions, concepts of space and time, the sefirot (divine emanations) of Jewish mysticism, abstract art, and a brief history of Western thought. While you continue guiding them in meditation.

And if you say, "I want to be IN that class" then perhaps you should be forming that class and learning together.

This week's gathering of quotes draws from the classic mystics: Teresa of
Avila'
s vision of the Trinity (one), a portion of John of Ruysbroeck's gorgeous Seven Steps of the Ladder of Spiritual Love (two), and quotes from both the Cloud of Unknowing and Julian of
Norwich
, again emphasizing the personal experience of relationship to Divine Love (three). The Last Word (contemporary theologian Thomas Berry) sends us off to consider the relational universe and its implications.
-Suzanne

Meditation One

The Trinity in the Soul

In the seventh dwelling, everything is new.

Now our great God is ready to remove the scales from the eyes of the soul so that she can see and understand something of the blessing he is granting her.

He does this in a strange and inexplicable way.

The soul enters the innermost chamber through a transcendental vision of the three divine Persons, which imparts to her a particular representation of truth.

At first, an incredible clarity descends on the soul like a luminous cloud, setting her spirit on fire and illuminating each of the three aspects of God individually.

At the same time, through a wondrous kind of knowledge, she apprehends the truth that all three divine Person as are one substance and one power and one knowing and one God alone.

The soul realizes then that what the rest of us know by faith, you might say, she understands by sight.

But this is not a seeing with the eyes of the body or even the eyes of the soul.

It isn't a visual revelation.

Here, all three Persons communicate themselves to the soul.

They speak to her, explaining things, like what Christ meant in the gospels when he said that he and the Father and the Holy Spirit come to dwell inside the soul who loves God and honors his ways.

Oh, Lord help me!

There's a big difference between believing these words by hearing them and being led to understand the truth they represent in this direct and wondrous way!

The soul is more amazed every day as she discovers that these divine Persons never leave her anymore.

Through this sublime knowing she clearly sees that they are with her always.

She perceives their sacred presence in a radically inner place, inside her own depths.

She just hasn't learned the language to be able to explain this knowing.

You may think that an experience like this would propel the soul beyond herself, that she would become so absorbed she could focus on nothing else.

Actually, when it comes to doing anything relating to serving God, she is more present than ever before.

As soon as she finishes such a task, she rests again in that divine companionship.


-Teresa of
Avila
, The Interior Castle (Seventh Dwelling, ch.1) trans. Mirabai Starr


Netherlandish Miniaturist, Tres Belles Heures de Notre Dame de Jean de Berry, c.1380, detail, Holy Trinity with evangelist medallions
Collect for Trinity Sunday

Almighty and everlasting God, you have given to us your servants grace, by the confession of a true faith, to acknowledge the glory of the eternal Trinity, and in the power of your divine Majesty to worship the Unity: Keep us steadfast in this faith and worship, and bring us at last to see you in your one and eternal glory, O Father; who with the Son and the Holy Spirit live and reign, one God, for ever and ever. Amen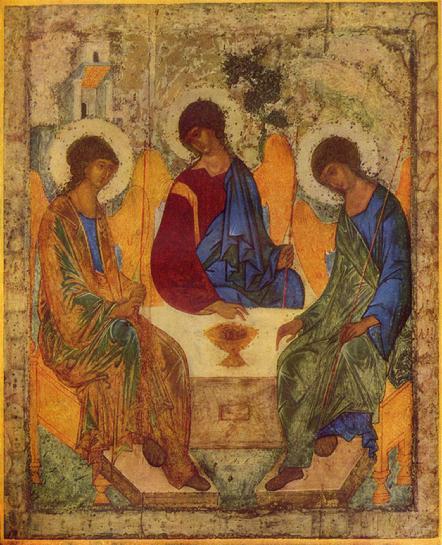 Andrei Rublev, early 15th Century, The Hospitality of Abraham, also known as the Rublev Trinity
Knowing the Trinity is being involved in this circling movement:
drawn by the Son towards the Father,
drawn into the Father's breathing out of the Spirit
so that the Sons' life may be again made real in the world.


It is where contemplation and action become inseparable.

-Rowan Williams, The Dwelling of the Light: Praying with Icons of Christ

Meditation Two

breathes us out

And that same Father says to each soul in His infinite loving kindness, "Thou art Mine and I am thine: I am thine and thou art Mine, for I have chosen thee from all eternity." …

When we unite ourselves to God by love, then we are spirit: but when we are caught up and transformed by His Spirit, then we are led into fruition.

And the spirit of God Himself breathes us out from Himself that we may love, and may do good works; and again he draws us into Himself, that we may rest in fruition.

And this is Eternal Life; even as our mortal life subsists in the indrawing and outgoing of our breath.

-Ruysbroeck, De Septem Gradibus Amoris, ch. 14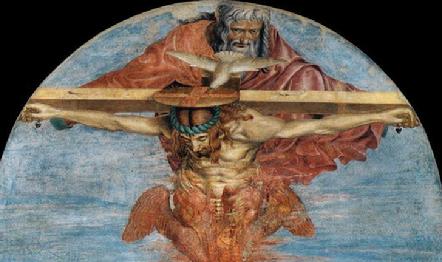 The "movement" in this work c1453 is entirely different, but still unusual in its perspective. The Holy Trinity with Saint Jerome and Two Saints, Andrea Del Castagno, detail
Meditation Three
love the One I cannot know
Now you say, "How shall I proceed to think of God as he is in himself?" To this I can only reply, "I do not know."
With this question you bring me into the very darkness and cloud of unknowing that I want you to enter. A man may know completely and ponder thoroughly every created thing and its works, yes, and God's works, too, but not God himself. Thought cannot comprehend God. And so, I prefer to abandon all I can know, choosing rather to love him whom I cannot know. Though we cannot know him we can love him. By love he may be touched and embraced, never by thought. Of course, we do well at times to ponder God's majesty or kindness for the insight these meditations may bring. But in the real contemplative work you must set all this aside and cover it over with a cloud of forgetting. Then let your loving desire, gracious and devout, step bravely and joyfully beyond it and reach out to pierce the darkness above.
-The Cloud of Unknowing, 14th century, trans.William Johnston
As verily as God is our Father, so verily God is our Mother; and that shewed He in all [her revelations] and especially in these sweet words where He saith: I it am. That is to say, I it am, the Might and the Goodness of the Fatherhood; I it am, the Wisdom of the Motherhood; I it am, the Light and the Grace that is all blessed Love; I it am, the Trinity, I it am, the Unity: I am the sovereign Goodness of all manner of things. I am that maketh thee to love: I am that maketh thee to long: I it am, the endless fulfilling of all true desires.
-Julian of
Norwich, c.1342- after 1413, Revelations of Divine Love
(early twentieth century translation)
The Last Word


The universe is not a collection of objects, but a communion of subjects.

-Thomas Berry

Thomas Berry died Monday, June 1, 2009

Website powered by Network Solutions®